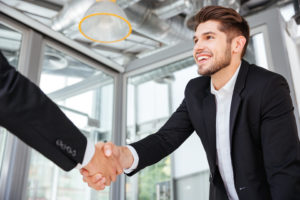 Whether you are going on a romantic date or walking into an important job interview, your smile is often the first thing that others will notice about you. In fact, according to research commissioned by the American Academy of Cosmetic Dentistry, nearly half of all adults think a smile is the most memorable feature of someone when meeting them for the first time. However, if you have cracked, misshapen or stained teeth, you may not feel confident enough to show your smile. Fortunately, modern cosmetic dentistry can often correct minor dental imperfections or even rejuvenate your entire smile with porcelain veneers. Here is everything you need to know about how porcelain veneers in Crown Point can transform your teeth and restore your self-confidence.
What are Porcelain Veneers?
Porcelain veneers are thin, custom-designed shells that fit on the front of your teeth to fix minor flaws in your smile. To firmly bond a veneer to your tooth, a thin layer of enamel must be removed – usually less than a millimeter.
During the procedure, your dentist will first clean, polish and etch your tooth to prepare it for bonding. He or she will then apply a special cement to the veneer and place the veneer on your tooth. The porcelain veneer is then bonded to the top of the tooth using a light-sensitive resin and special bonding light that causes the cement to harden or cure very quickly. It is that easy!
Porcelain veneer treatment typically requires two or three trips to the dentist, including the initial consultation.
What are the Benefits of Porcelain Veneers?
Each year, men and women across America choose porcelain veneers to rejuvenate their smiles for a variety of reasons, including:
Natural appearance – Veneers have a translucent quality that allows them to blend in seamlessly with the rest of your smile
Brighter smile – Porcelain veneers are more resistant than natural enamel to stains from coffee and other dark foods and drinks
No recovery time – Once the placement procedure is complete, you can leave the dentist's office and immediately return to your normal daily schedule
Long-term solution – Porcelain veneers typically last from 7 to 15 years with proper care
Am I a Good Candidate?
Candidates considering porcelain veneers must have teeth healthy enough to support the procedure. While veneers cannot replace missing teeth or fix some serious dental issues, they are an effective solution for a variety of dental imperfections, such as:
Chipped or broken teeth
Stained or discolored teeth
Gaps between teeth
Misaligned or misshapen teeth
Arrive at your next date or job interview with a confident, beautiful smile that will be sure to leave a lasting, positive impression! Talk to a cosmetic dentist in Crown Point today rejuvenating your smile with porcelain veneers.
About the Practice
The experienced team at Advanced Dental Concepts knows that a straight, white smile can improve an individual's self-confidence and quality of life – that is why they offer porcelain veneers and other cosmetic dentistry treatment options. If you want to learn more about porcelain veneers, visit the Advanced Dental Concepts website online or call the office at 219-663-6878.