Implant-Retained Dentures – Crown Point, IN
From Missing Teeth to Stable, Longer-Lasting Smiles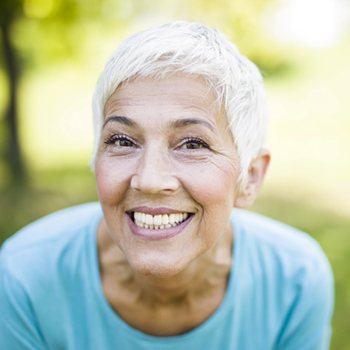 Implant-retained dentures in Crown Point offer more than just an opportunity to have a complete smile again. Yes, the idea of no longer being embarrassed by the entire row of missing teeth on the bottom of your mouth sounds wonderful, but these restorations can not only restore but improve your oral health. At Advanced Dental Concepts, you can expect our dental professionals to restore your smile from the root up, strengthening your jawbone, improving your facial appearance, and offering you greater functionality with your new implant-retained dentures. Call our office to schedule a consultation today and find out if this tooth replacement solution is right for you.
How Do Implant-Retained Dentures Work?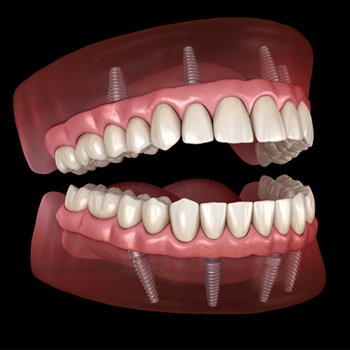 If you're struggling to understand the difference between traditional dentures and implant-retained dentures, here is a good example. Imagine you're trying to attach two pieces of wood to each other. You can use a heavy-duty glue, but most likely, over time, it will slip and come apart. However, if you use screws, the wood will securely attach to the other piece. The same goes for regular dentures and implant-retained dentures.
Traditional dentures are held into place with your natural suction and if necessary, a denture adhesive. Implant-retained dentures are surgically placed into the jawbone, creating a more secure and stable restoration.
Am I a Candidate for Implant-Retained Dentures?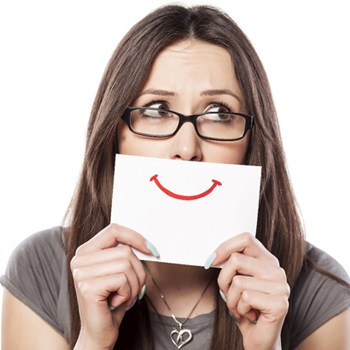 If you're considering implant-retained dentures, there are a few things your dentist in Crown Point will need to determine before giving you the green light to move forward. You'll need:
A strong and healthy jawbone
Overall good oral health
To be a non-smoker
A strong jawbone ensures successful implant placement. Because it serves as the foundation for your implant and custom restoration, you cannot have a deteriorating or weakened jawbone. If it's necessary, we may suggest a bone grafting procedure to encourage additional bone support before receiving implant-retained dentures.
It's also important that you have healthy teeth and gums. If gum disease or tooth decay are plaguing your mouth, you'll need to have the appropriate procedures completed first. This will ensure your mouth is in good shape for your new implant dentures.
Finally, smoking weakens your immune system and makes it harder to heal quickly. This can interfere with the osseointegration process your mouth must undergo when receiving implants of any kind. The implant must fuse to the bone, so if your body is unable to heal at an appropriate rate because of smoking, your implant placement will fail.
The Implant-Retained Dentures Procedure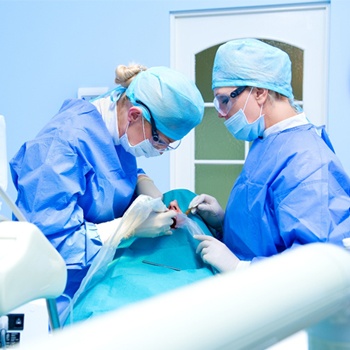 The procedure for receiving implant-retained dentures is lengthy, but it is very much worth the wait. During your first appointment, your dentist will administer local anesthesia before making small incisions in your gum line. Next, they will place anywhere from 4 to 6 implants into your jawbone after strategically drilling holes in the appropriate areas of the bone. Once your dental implants in Crown Point are carefully positioned, your gums will be stitched, and you'll be sent home to spend the next several months healing.
Once you're fully healed, you'll return to our office to have abutments placed, which are the appliances that connect the implant to the restoration, as well as your customized denture. Using impressions previously taken of your mouth, a dental lab technician will have crafted your dentures to meet the desired expectations of both you and our dental professionals.
Benefits of Combining Dentures & Dental Implants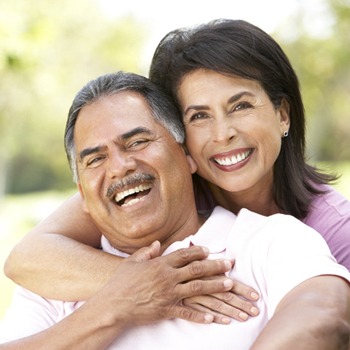 Improved oral health
Increased confidence
Improved facial appearance
Greater stability
More functionality
Longer lasting restoration
No need for relining or readjusting