How Dental Implants Work – Crown Point, IN
Steps to Rebuilding Your Smile
Traditional dental prosthetics have been used for decades because they effectively replace the portions of your teeth visible above the gum line. Dental implants in Crown Point go a step further to also replicate the root. Mimicking the entire structure of a tooth, you'll enjoy the next best thing to what nature gave you, but you'll need to undergo a multi-phased treatment process. Each step builds the foundation necessary to ensure the long-term success of your new smile.
Initial Dental Implant Consultation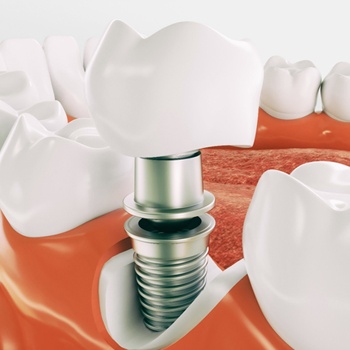 The first phase in the dental implant process in Crown Point is to ensure you're a candidate for them. Most people who have good oral and general health can get dental implants, but we will still need to perform a comprehensive consultation. We will discuss your lifestyle habits and take a CT scan to assess your risk factors for implant failure. Based on the results of our examination, we might find you need additional treatments to create the right groundwork for your new smile, like periodontal therapy, bone grafting, or a sinus lift.
Dental Implant Surgery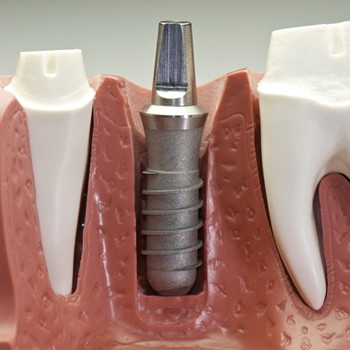 After you've healed from any previous treatments, you're scheduled for your placement surgery. If you're treating a single tooth, you may only need a local anesthetic during your procedure; however, if your case is complex or your replacing multiple teeth, we might recommend sedation or general anesthesia.
Your gum tissue is opened to expose your jawbone. Small holes are drilled into pre-determined locations within your bone. Titanium implant posts are inserted into each hole and your gum tissue is sutured closed. You'll spend the next several weeks healing.
Dental Implant Osseointegration & Abutment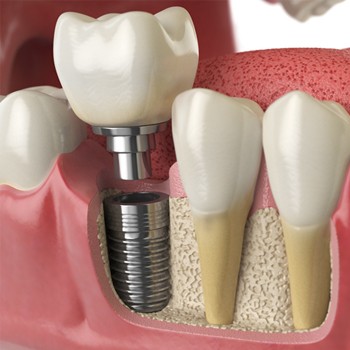 Your implant posts act as tooth roots, which stimulates your jaw to encourage new bone growth. Through a process called osseointegration, your jaw fuses to the posts. After your bone has healed, you'll need a second minor surgery to place special connector pieces on each post, called abutments. Typically, it takes about 2 weeks to heal from the procedure.
Placement of Dental Implant Restorations
While you're recovering from having your abutments placed, the dental lab will be hard at work, carefully crafting your new smile. Your prosthetic teeth are designed to replicate your natural ones. They will match your color, size, and shape needs, so no one will know they aren't your own.
If you're ready to replace your missing teeth, it's time to schedule your consultation for dental implants. Contact our office today to take your first step toward a complete smile.