Professional Teeth Whitening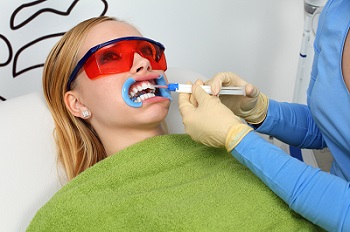 A brighter smile is something many people want, but if you've tried numerous over the counter teeth whitening toothpastes, mouthwashes, strips, and gels, you might think teeth whitening won't help you. The truth is, many of these products simply cannot deliver the brighter smiles they promise. Instead of wasting time and money on store bought teeth whitening, call Advanced Dental Concepts to schedule a cosmetic dentistry consultation today. We'll evaluate your oral health and help you find the right cosmetic dental solution to achieve a brilliant, beautiful smile. Danny Hayes, DMD and his caring Crown Pointe team have years of experience offering a wide range of cosmetic dentistry solutions to help patients transform flawed teeth into beautiful, healthy smiles.
Causes of Dental Staining
Before recommending any cosmetic dental treatment, we will need to understand the underlying cause of dental staining. Some of the common reasons patients have tooth staining include:
Consumption of darkly colored foods and drinks
Enamel erosion due to aging, teeth grinding, or dental wear
Naturally thinner tooth enamel revealing the yellow dentin layer
Naturally darker tooth coloring
Fluorosis stains may occur due to over consumption of fluoride as teeth develop
Tetracycline stains may occur due to taking certain medication as teeth develop
In-Office Teeth Whitening
In-office teeth whitening is the fastest, safest, and most predictable smile brightening solution. The entire treatment is completed under the direct observation of Dr. Hayes, a skilled cosmetic dentistry professional, so you know you can rely on him and his Advanced Dental Concepts team to deliver beautiful results. The treatment itself is very simple and conservative. We begin by placing plastic partitions that protect the gums and keep the whitening gel on the surfaces of teeth. Then, we apply a coat of whitening agent to teeth. After twenty minutes, we'll check your progress, and Dr. Hayes will reapply as necessary until you've achieved your desired results.
Take-Home Whitening Kits
Patients with sensitive teeth and gums, those who want to brighten smiles more gradually, and those who want to touch up the results of in-office whitening, should consider a professional take-home teeth whitening kit. Like in-office teeth whitening, these kits include a custom level of professional grade whitening gel. In order to keep the whitening gel on the surface of teeth and keep neutralizing saliva away, Dr. Hayes will craft custom application trays that seal your whitening gel onto teeth. You'll need to wear your application trays with a small amount of whitening gel for about thirty minutes a day for two weeks. At the end of this treatment period, patients achieve results six to ten shades brighter.
Benefits of Professional Whitening Over Store Bought Kits
No cosmetic dentistry solution is right for every patient, but if we determine your smile will be responsive to teeth whitening, we highly recommend you move forward with a professional teeth whitening option. Some of the many benefits of professional whitening over store bought whiteners include:
Predictability – because your dentist is part of your treatment plan, you know you'll receive predictable teeth whitening results up to ten shades brighter
Safety – with a prescribed treatment plan, your teeth, gums, and other soft tissues will be protected from potential damage
Longevity – professional whitening offers long lasting results, and most professional teeth whitening plans also incorporate regular touchups to maintain the results