Dental Implants – Crown Point, IN
Lasting Solutions for Missing Teeth
Traditional tooth replacement solutions only restored those parts of teeth visible above the gum line. While this allowed patients to resume a more varied diet and smile confidently, without replacing the underlying root structure, these solutions only replace half the tooth. The roots support the entire dental structure, provide shape for the face, and stimulate the jawbone in order to retain density. That's why we regularly recommend dental implant supported tooth replacement since these solutions restore the entire tooth from the roots up. If you're interested in finding out more about advanced tooth replacement solutions for patients in Crown Point and Palmer, IN, contact our friendly team to schedule a dental implant consultation today.
Are You Missing One Tooth?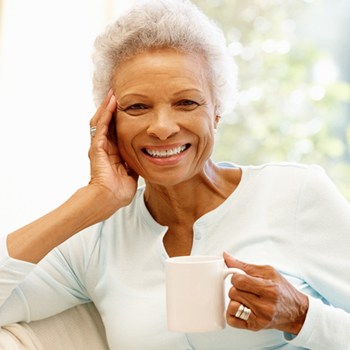 Dental implant tooth replacement is completed in two phases. During the initial phase, dental implant posts are surgically placed below the gum line. A protective cap is also placed over the top of the implant site to allow the gums to heal and supportive tissue to fuse with the dental implant post. Over the course of three to six months, the implant post fuses with the jawbone and gum tissue mimicking the lost root structure. Once this process, known as osseointegration, is completed, patients return to our Crown Point dental office where we will attach one or more replacement teeth to the dental implants. We're proud to offer every stage of treatment in one convenient location!
Are You Missing Multiple Teeth?
For those who are missing between one and four consecutive teeth, dental implant supported crowns and fixed bridges may offer a natural looking and feeling solution. To replace a single tooth, a custom crown will be attached to a single implant post. In most cases, two consecutive teeth can be replaced by connecting two dental crowns and attaching both crowns to a single implant post. Those patients with three or four consecutive missing teeth, will need to have two implant posts placed. These implants support both ends of the fixed bridge dental prosthetic.
Are You Missing All of Your Teeth?
Patients with more extensive tooth loss should consider an implant supported partial or full denture. Like their traditional counterparts, implant supported dentures are used to replace several teeth or a full arch with one tooth replacement prosthetic. Rather than being supported by healthy teeth or gum tissue, the dentures are held in place with four to six dental implant posts strategically placed along the arch. This restores greater functionality to the replacement teeth, allowing patients to enjoy a more varied diet and greater confidence when speaking, eating, and smiling in public.
Implant-Retained Dentures
Patients who are missing all their teeth often believe the only solution is traditional dentures. Although effective at maintaining facial appearance, they don't fully restore your complete smile. So, what is the alternative? The answer is implant-retained dentures in Crown Point. These titanium posts are placed within the jawbone to offer a solid foundation for your brand new smile. Not only will you have greater stability and functionality, but you'll have a smile that will last decades, if not a lifetime.
How Do Dental Implants Work?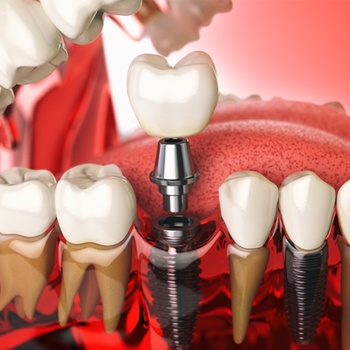 Dental implants are the most reliable solution to treat tooth loss because they replicate the entire structure, not just what's visible above the gum line. Unlike traditional dental prosthetics, you'll need a multi-step treatment process that will require oral surgery. Although it will take several months to complete, it's time well spent to ensure your new smile lasts for a lifetime. We will explain each phase of your treatment and answer your questions, so you feel confident in your tooth replacement option.
Cost of Dental Implants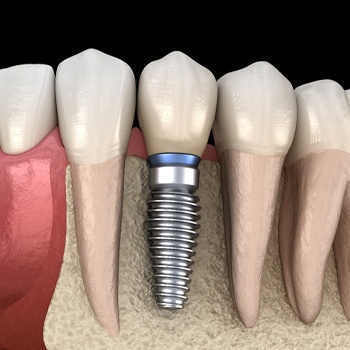 It's no secret dental implants cost more than traditional treatments, but don't let that stop you from rebuilding your smile. Dental implants are actually more cost-effective long-term because they have the potential to last for a lifetime, so you'll never need to pay to have them replaced. We'll provide you with a custom estimate during your initial consultation and discuss your payment options, like using your dental insurance or CareCredit.
Dental Implant FAQs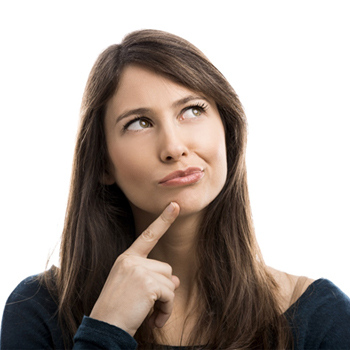 Do you still have questions about dental implants in Crown Point? We have the answers! At Advanced Dental Concepts, we understand that you may want additional information about this treatment before setting foot in our office. Read on to learn the answers to some of the most frequently asked questions about dental implants.
What is a Dental Implant?
A dental implant is a small screw-like post that is surgically placed in your jawbone to act as an artificial tooth root. Titanium, a biocompatible material, allows the implant to integrate into your jawbone, which creates a sturdy and long-lasting support for dental restorations. As mentioned above, dental implants can be used to replace one tooth, multiple teeth, or even your whole smile, which is one of the many reasons why we offer them at our practice.
Does the Implant Process Hurt?
Many people hear about the process of drilling holes into the jawbone to place implants and automatically think that it's incredibly painful. However, the discomfort felt during the procedure can be compared to a simple tooth extraction. Our team makes sure you are numb and comfortable before starting the placement process. Additionally, your jawbone doesn't contain pain-sensing nerves, which makes the procedure much more comfortable than expected.
The most pain that patients experience is actually after surgery. This soreness and discomfort is completely normal, and it can be managed by taking medication and using a cold-compress to ease swelling. After a few days, your discomfort will begin to dramatically subside.
How Many Dental Implants Do I Need?
The number of implants that we recommend will be based on the condition of your oral health, the strength of your jawbone, and how many teeth you're missing. Contact our office for a consultation, where Dr. Hayes or Dr. Mousa will examine your mouth to determine the number of implants that you will need. This will also be one of the main factors that influence the cost of your treatment.
How Do I Know if I'm a Candidate for Dental Implants?
The best way to know if dental implants are right for you is to visit our practice. However, good candidates will typically:
Have a strong enough jawbone to accommodate implants
Have healthy gums
Be committed to routine oral healthcare and checkups
Don't smoke or use tobacco products
Don't drink alcohol heavily
Some oral health conditions like gum disease must be addressed before starting the dental implant process. Contact our office with any other questions that you may have or if you'd like to set up a consultation.