Porcelain Veneers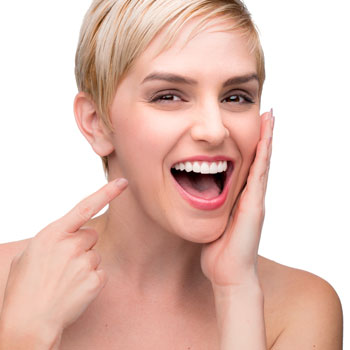 One of the most popular cosmetic dentistry solutions available from Advanced Dental Concepts is the Porcelain Veneer. This treatment is crafted using thin sheaths of dental grade porcelain to conceal numerous chips, cracks, stains, gaps, or other flaws in teeth. When your smile is otherwise healthy, but you want to improve the natural appearance, veneers are a great, minimally invasive dental care option. If you'd like to learn more about porcelain veneers, please call our Crown Point dentistry practice. We'll schedule a cosmetic dentistry consultation. During this appointment, we'll examine your smile, discuss what you would like to see, and create a personalized cosmetic dental plan that will give you a flawless smile you'll always feel confident sharing.
---
How do Porcelain Veneers Transform Smiles?
Porcelain veneers are affixed to the front surfaces of teeth. We can create veneers for both top and bottom teeth or just the top or bottom. Veneers are typically only recommend for those teeth visible when patients smile. The process is completely comfortable, and patients should plan to visit our office two times after their initial consultation to complete the treatment itself. During the first treatment appointment, we numb the mouth. Then, a very small amount of surface tooth enamel is removed. This allows your veneer to lay flat without changing the natural line of your smile. Bite impressions are captured. These impressions and our design are sent to the dental lab where your porcelain veneer is crafted. Finally, we place a temporary veneer to protect your treated teeth and allow you to get used to the look and feel of veneers.
When your custom veneer is received from the lab, you'll return for your second treatment appointment. We'll exchange your temporary for the custom porcelain veneer. If you're happy with the results, your porcelain veneer treatment is complete. If there are any adjustments you'd like, we may need to return the veneers to our lab and schedule an additional appointment. We take our time during the design process, so this does not happen very often.
---
Who is a Good Candidate for Porcelain Veneers?
Most patients will be healthy enough for this treatment as it very rarely causes any discomfort. Aside from minor sensitivity on the day of the appointment, there is no recovery time at all. We offer a wide variety of cosmetic dentistry services, and no service is right for every patient we see. That includes porcelain veneers. This is why the consultation appointment is so important. Before we recommend veneers, we want you to completely understand all of your dental treatment options, so you will feel 100% confident in the solution you select. Consider the following situations where porcelain veneers may offer effective treatment:
When aging teeth appear worn and dingy but are healthy, veneers quickly restore youthful appearance
When patients have deep set staining that cannot be improved with teeth whitening, we may use porcelain veneers to lighten and create consistent color in the smile line
When patients have large gaps between teeth, veneers can close the space to create an even bite
When patients have worn or chipped teeth, veneers may be used to restore the appearance without removing the amount of tooth structure necessary for a dental crown
---