Advanced Dental Technology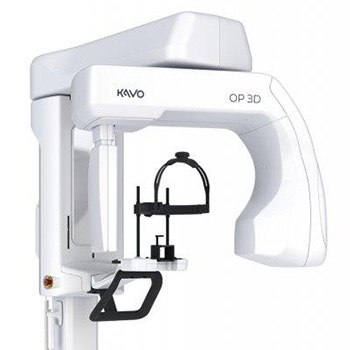 State-of-the-art technology may not be the first thing that comes to mind when you think of a visit to the dentist. However, innovative technologies truly improve the dentistry experience. At Advanced Dental Concepts, we are dedicated to creating an office environment where people feel completely comfortable and right at home. We use advanced dental technologies to do just that, offering safe, fast, comfortable dental treatments. If you want to learn more about our dental technologies or any of the services we offer in our Crown Point dental office, give our team a call today. We look forward to helping you with all of your dentistry goals.
---
Carestream Intraoral Impression Scanning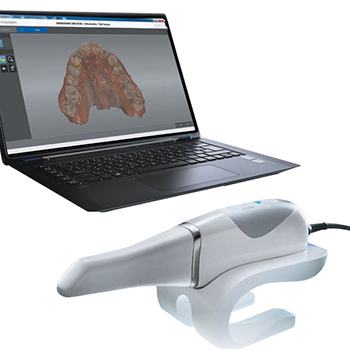 With Carestream CS3600 intraoral impression scanner, gooey impression materials are a thing of the past. We use our intraoral impression scanner to capture precise 3D images of your mouth and teeth. These digital impressions allow us to quickly and accurately capture 3D representations of your prepared smile using a small, handheld tool. The digital impressions are immediately viewable on our chairside computer monitors where they can be used to design dental restoration options like crowns, bridges, and appliances. By simply emailing these images to our laboratories, delivery of perfectly fitting restorations is streamlined.
---
Kavo OP3D Cone Beam Orthopantomograph X-ray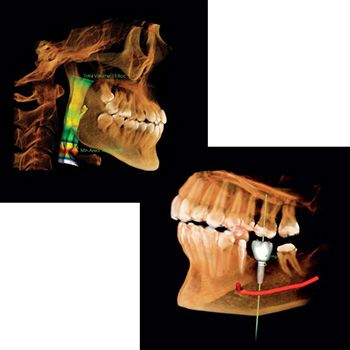 Our KAVO CT cone beam orthopantomography x-ray scanner gives us the ability to accurately plan for the most advanced treatments. Traditional x-rays capture two dimensional images of just one part of the smile. The KAVO CT scanner gives us three dimensional images of a single tooth or the whole smile. That makes providing treatments for even the most advanced cases faster, easier, and more accurate. Best of all, CT cone beam scans are quick and safe. You simply stay put while the scanner circles, capturing thousands of images of your smile that are combined to create a clear 3D image of your oral and facial structures. Watch the video here to see just what our KAVO CT cone beam scanner can do for your treatment planning process.
---
VELScope Oral Cancer Screening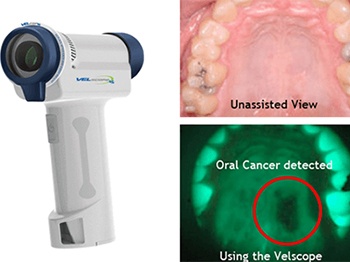 According to the Oral Cancer Foundation, one person dies every hour from oral cancer, and of those diagnosed this year, only 50% will live more than five years. When there's a deadly disease like this, it's important for health care providers to come together and work toward a solution. Research indicates that early diagnosis is the best way to lower the number of oral cancer related deaths each year. That's why our team is dedicated to offering every patient oral cancer screening as part of their six month dental checkups. We utilize the state-of-the-art VELScope system to maximize the efficacy of our oral cancer screenings. This light allows us to recognize the warning signs of oral cancer in earlier stages.
---
Soft Tissue Laser Therapies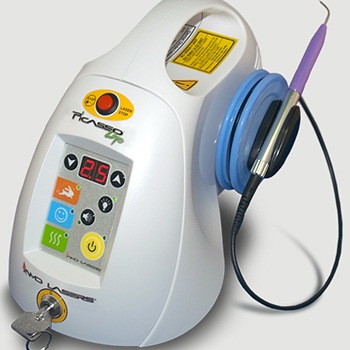 For patients with gum disease, traditional soft tissue treatments like scaling and root planing required the use of scalpels and sutures. While these treatments were necessary to remove damaged tissues, plaque, and tartar, they often made recovery more difficult. Patients in need of treatments for gum disease often struggle to heal and suffer from infection following traditional treatment. With soft tissue laser therapy, the procedures are performed with minimal trauma, little to no bleeding, and reduced risk for infection. Soft tissue lasers use high intensity light rays to remove damaged tissues while preserving healthy structures. They also instantly cauterize the treatment area, minimizing bleeding and helping patients achieve complete recovery.
---
Intraoral Cameras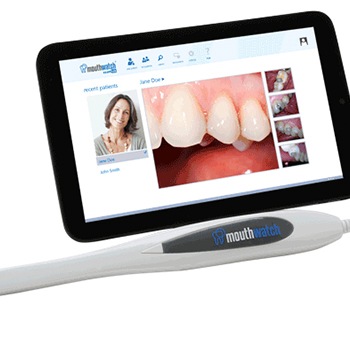 One of the most important technologies we've incorporated into our office is the intraoral camera. These cameras allow us to capture images of your smile exactly as we see it. We then share the images with you on our chairside computer monitors, so you can see your smile from our perspective. This allows you to be more actively engaged in the treatment planning process and better understand your oral health care needs. Intraoral photos are also a great tool to help patients decide what cosmetic dentistry treatments they should consider as part of a smile makeover plan.
---
Digital X-Rays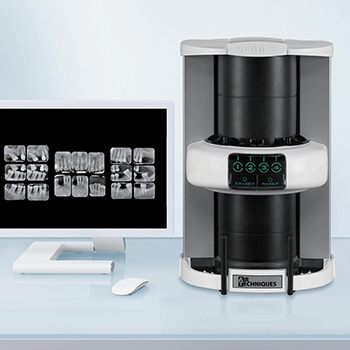 Crystal clear digital x-rays allow us to quickly capture and share scans of patients' smiles on our chairside computer monitors. Digital x-rays minimize exposure to radiation and maximize the clarity of x-ray images. Once these digital scans are captured, we can easily transfer them to dental labs, specialists, and insurers as necessary throughout treatment. While you're in the office, we can also zoom in to show you specific areas of concern, highlight irregularities, and otherwise enhance the digital images to help you better understand your oral health concerns and potential treatment plans. Best of all, digital x-rays are easily stored for easy access between appointments. We can compare your x-rays to help our team note changes to your smile in the earliest possible stages, so we can offer conservative treatment options.