Rebuild the Strength of Your Smile with Dental Crowns and Bridges in Crown Point, IN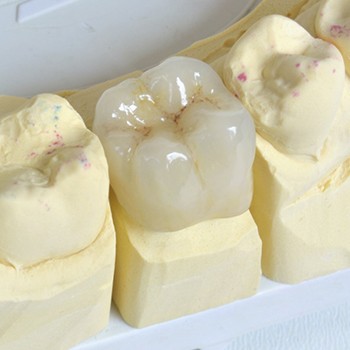 If your smile undergoes some sort of trauma or damage, the best thing that you can do for your oral health is actively work to repair it. That's why Advanced Dental Concepts believes in providing top notch restorative care for every single one of our patients. Just because you have a problem with your smile today, doesn't mean you should have to continue to deal with it. In fact, a dental crown or bridge from your dentist in Crown Point can help you discover newfound stability in an aesthetically pleasing way.
---
How Can Crowns and Bridges Help You?
Our office has used restorative dentistry like crowns and bridges for years and years to help restore the structure, stability, and overall health of damaged teeth. Why? Simply because they actually work! Here's how each specifically may be able to work for you.
---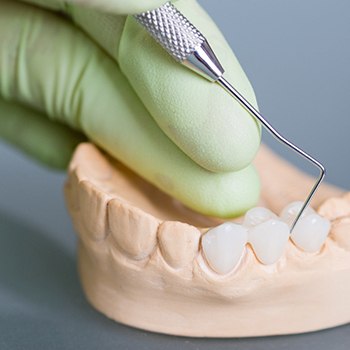 Dental Crowns Address Singular Damaged or Missing Teeth
Dental crowns are thin—yet durable—tooth-shaped coverings that work to cap a damaged or weak tooth. Your dental crowns will be customized by taking impressions right here in our Crown Point office.
Dental crowns can be used to address a variety of tooth issues, including:
Holding pieces of a damaged, broken tooth together.
Restoring the strength of worn teeth.
Repairing severely decayed teeth.
Capping extremely discolored teeth.
Replacing a missing tooth by attaching it to a dental implant.
Anchoring a dental bridge to surrounding teeth for support.
Typically, when you get a dental crown or bridge, you can expect to simply visit our office a couple times. Between taking the impressions, placing a temporary crown, and then returning for your permanent crown to be placed, your dentist in Crown Point will be able to help you address all of your dental concerns.
---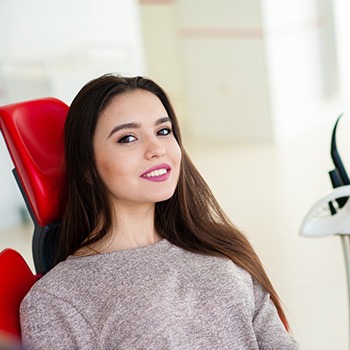 Dental Bridges Address Multiple Teeth
While crowns are used to cap an existing tooth, you can use dental bridges to address and replace multiple, consecutive missing teeth.
A dental bridge is basically a series of dental crowns. This actual bridge-like structure of dental crowns is secured on both sides of the gap—literally "bridging the gap" between your missing teeth. The process isn't too different from getting a single dental crown, although more impressions and data will need to be taken to create your dental restorations.
---
Keep Your Smile Strong with the Help of Your Dentist
Once you've had your tooth restored with a beautiful dental crown in Crown Point, it's just as important as ever for you to maintain the health of your teeth—don't worry—we're here to help! A great dental hygiene routine that contains consistent brushing, flossing, and visiting your dentist every 6 months will keep your restoration in excellent shape.
If you're in need of a smile restoration, or even if you have questions about how dental crowns or bridges could address the problems in your smile, feel free to contact our office!