Single Tooth Dental Implant – Crown Point, IN
Rebuilding Teeth From the Root Up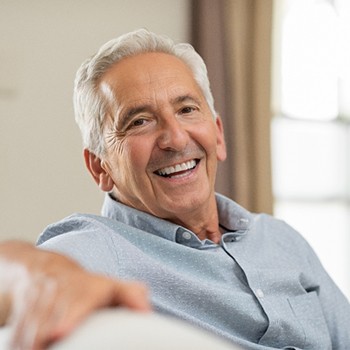 Dental implants in Crown Point are the go-to solution for many patients seeking a tooth replacement. At Advanced Dental Concepts, we are proud to offer this method of treatment and partner with local oral surgeons to help rebuild and restore smiles from the root up. Even when one tooth is missing, it can not only cause embarrassment, but it can also be problematic for the health of your teeth, gums, and facial appearance. To prevent additional problems from occurring, we invite you to contact us to schedule a consultation with one of our highly skilled dentists today!
What Are My Options?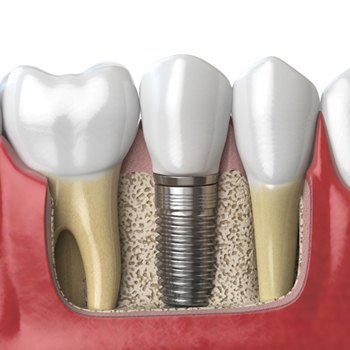 When faced with a missing tooth, you essentially have two options as to how you can replace it:
Fixed Bridge: Considered a tried and true method of tooth replacement, a fixed bridge consists of three dental crowns fused together. The two crowns on the ends are designed to fit over your natural, healthy teeth that exist on both sides of the gap. These teeth will be filed down to ensure the dental crowns fit snugly, serving as anchors. The crown in the middle will sit on top of the gum line, replacing the look of your missing tooth.
Single Tooth Dental Implant: As a more reliable and effective solution, a single tooth dental implant is designed to fuse to your jawbone. It is made up of a titanium post (the implant), which mimics the tooth root, an abutment that connects the implant and the restoration, and a custom dental crown that sits on top of your implant.
What Are Single Tooth Dental Implants?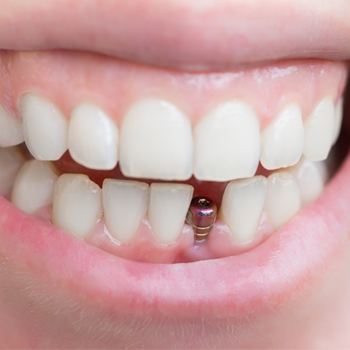 Single tooth dental implants are titanium posts that are surgically placed in your jawbone. Mimicking your tooth root, these stimulate the bone, allowing it to maintain its strength. Your dentist in Crown Point will work alongside an oral surgeon who will make a small incision in the gum line, exposing the bone. Carefully, they will place and position the implant before closing up the area and sending you home.
During your time spent healing at home, the implant will fuse together with the bone and nearby tissues in a process known as osseointegration. Once the area has effectively healed (3-6 months), you will return to our office where you will receive your abutment and final restoration.
The dental crown that will stop atop the implant will be crafted to match the size, shape, and color of your natural teeth. This will give you greater stability, functionality, and improved appearance.
What Are the Benefits of Single Tooth Dental Implants?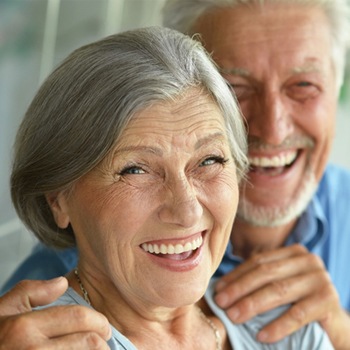 Longevity – Dental implants are designed to last decades. With proper care, they can even last a lifetime, making it a worthwhile investment.
Stability – Unlike a bridge, implants are surgically placed, meaning they aren't going anywhere.
Functionality – Since dental implants act just like a normal tooth, you will have greater functionality when it comes to biting, chewing, and speaking.
Natural look and feel – It will be almost impossible for anyone to tell the difference between your real and artificial teeth because your implant looks just like a normal tooth. And because of its placement, it will feel like a regular tooth, too!
Low maintenance – There are no special tools needed to clean your implant. Just brushing, flossing, rinsing, and maintaining your regularly scheduled dental appointments are all you need to keep your implant healthy.