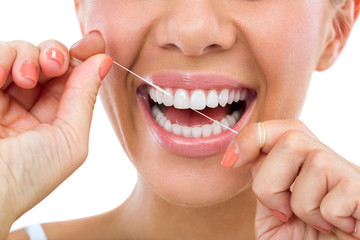 With the arrival of Spring comes a desire for change and renewal, prompting many to clean and improve their living spaces. This is also the perfect opportunity to give your teeth a much-needed spring cleaning. As you declutter your home and prepare for the warmer months ahead, take a few moments to show your smile some extra care. Check out these five useful tips so you can learn how you can give your teeth the TLC they deserve.
#1: Floss Your Teeth
Flossing is a crucial step in maintaining good oral hygiene, as it helps remove plaque and food particles from areas that your toothbrush can't reach. Particularly before bedtime, flossing is essential to eliminate the buildup of plaque that can lead to oral health problems such as tooth decay and gum disease. Make sure to incorporate flossing into your daily dental routine to keep your teeth and gums healthy.
#2: Upgrade Your Toothbrush
To maintain good oral hygiene, it is recommended to replace your toothbrush every three to four months or earlier if the bristles appear frayed or worn out, indicating you may be brushing too hard. After recovering from an illness, it's also essential to replace your toothbrush to prevent reinfection. Switching to an electric toothbrush can improve plaque removal and enhance your overall dental hygiene routine.
#3: Clean Your Toothbrush Holder
Toothbrush holders can harbor harmful bacteria and germs. It's important to clean them regularly with soap and water, vinegar, hydrogen peroxide, or a disinfectant spray. Soaking the holder in a solution of bleach and water for 30 minutes is also effective. After cleaning, make sure to rinse the holder thoroughly.
#4: Schedule a Professional Teeth Cleaning
Regular dental check-ups every six months are crucial for maintaining good oral health. During the check-up, your dentist or hygienist will clean your teeth thoroughly to remove any buildup of tartar and plaque. They will also examine your mouth for early signs of cavities, gum disease, and other oral health problems. By taking care of your teeth and gums, you can keep your smile healthy and avoid the need for expensive dental treatments in the future.
#5: Cut Out Bad Habits
Tobacco use, excessive consumption of sugary foods or drinks, and alcohol intake can harm your oral health, increasing the risk of cavities, gum disease, dry mouth, and oral cancer. Quitting these habits as soon as possible is crucial for maintaining a healthy smile.
If you need help quitting smoking or drinking, seek out resources from your dentist, doctor, or mental health professional. It's also important to ask for support from your friends and family. With the right tools and support, you can overcome these habits and improve your oral and overall health.
About the Practice
Advanced Dental Concepts, led by Dr. Danny Hayes and Dr. Christine Mousa, offers high-quality dental care for families in Crown Point and nearby areas. With a focus on exceptional dentistry and outstanding customer service, they prioritize patient comfort and satisfaction. Their team strives to be honest, respectful, and courteous to ensure patients feel confident and relaxed during their visits. To set up an appointment or for more information on their services, visit Advanced Dental Concepts' website or call (219) 663-6878.