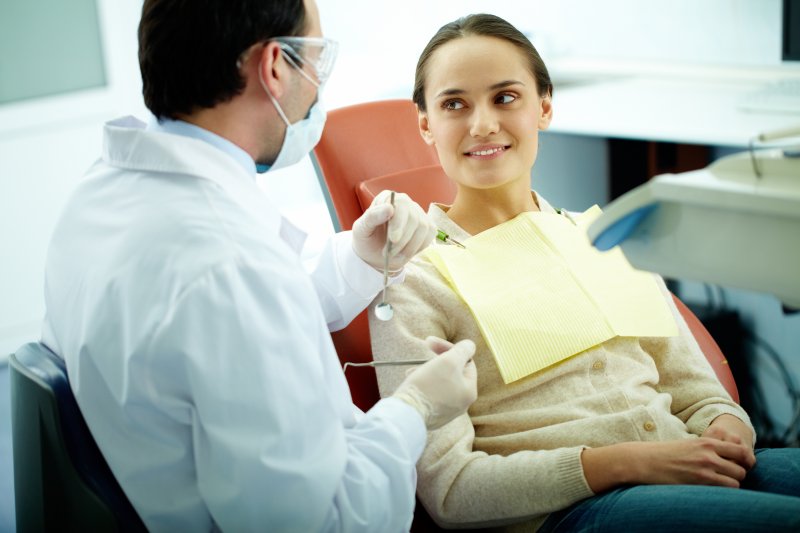 New Year's Eve brings an opportunity to self-reflect on moments you enjoyed over the past 12 months, but it also provides you a chance to think about what changes you'd like to make. While most people think about losing weight, saving money, and spending more time with family, it's worth considering the benefits of choosing a resolution related to your oral health. To help you get started, here are three resolutions from a dentist in Crown Point to keep in mind.
Revisit Your Oral Care Routine
Many people don't realize their oral care routine at home isn't enough to protect their smile until they talk about it with a dentist. For example, if you aren't doing all of the following, you could say your routine is incomplete or not as effective as it could be. This includes:
Using fluoridated toothpaste to clean teeth
Brushing for at least two minutes at a time
Flossing at least once a day
Brushing along the gum line, cleaning the back teeth, and targeting all surfaces of teeth
Brushing the tongue
While these are the most important adjustments to make to your routine, it also helps to add an oral rinse for extra protection. This can be especially helpful if you have restorations or dental implants.
Include More Mouth-Friendly Options in Your Diet
Diet plays a role in your oral health just as much as your oral hygiene, which means if you're eating lots of foods that harm teeth (i.e. foods high in starch and sugar), you're just as much at risk of developing dental problems. Incorporating more fruits, vegetables, and dairy products into your day-to-day meals gives your teeth and gums the nutrients they need to be healthy. Furthermore, drinking enough water throughout the day will keep saliva production high, ensuring your mouth can keep itself cleaner in between your brushing and flossing routine.
Staying On Top of Routine Checkups
Even the most diligent at-home oral care routine can't prevent all tooth decay or gum disease. The only way to make your oral care routine complete is to schedule a checkup with a dentist at least once every six months. These visits are about so much more than simply cleaning your teeth and confirming how effective your at-home habits are. They are also meant to catch early signs of problems before they turn into serious issues that preventive services cannot resolve.
For example, in the event that a tooth is at higher risk of developing decay, a dentist can target that tooth with preventive solutions to reduce the chances of it turning into a cavity.
Start your new year on the right foot by scheduling a checkup with a dentist today. When you do, you can learn about the best steps to take to protect your oral health!
About Advanced Dental Concepts
Dr. Danny Hayes and Dr. Christine Mousa put prevention first because it's always easier and more affordable for patients to manage positive oral health vs. treat problems when they develop. They hold nearly 20 years of combined experience within their fields and love helping patients achieve a healthy smile they can feel confident showing off. To schedule an appointment with their office, you can contact them through their website.