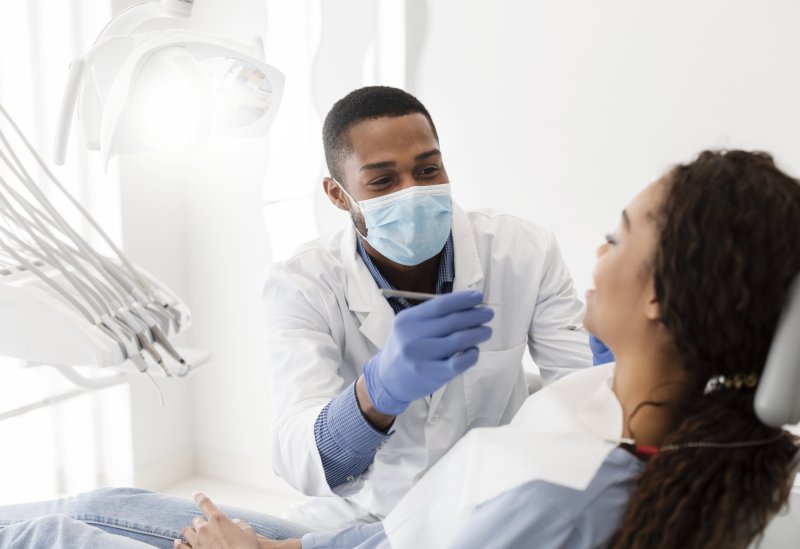 Though you may be tempted to get in and out of your biannual dental checkups as quickly as possible, being involved during your appointments and informing your dentist of health issues is a crucial part of keeping your mouth and body in good shape. To make sure your dentist can provide you with the care you need, mention these six things at your next dental checkup.
#1: Your Oral Care Routine
Tell your dentist how often you brush, floss, and what toothpaste you use. This will help them determine what health issues you're at risk for and recommend techniques, products, or areas for improvement.
#2: Overall Health Issues
There are several health issues that can impact your mouth and vice versa. If your teeth are misaligned, this can make it harder to chew your food properly and impact digestion. Poor oral health and gum disease can raise your blood pressure and cause medications to be less effective. Diabetes weakens your immune system and makes you more prone to serious gum disease. Informing your dentist of these health problems will allow them to take special precautions against oral issues you may be more susceptible to.
#3: Bleeding or Tenderness When Flossing or Brushing
Faulty dental restorations, ill-fitting dentures, and gum disease all have bleeding or tender gums as potential side effects. Your dentist can unearth the root of the problem and prevent it from developing any further.
#4: Medications and Supplements
Make sure to provide your dentist with a list of all the supplements or medications you take. This will allow them to avoid recommending treatments or aftercare that can lead to complications. If a medication you take has side effects such as dry mouth, this will also let them take a proactive approach to oral health maintenance.
#5: Headaches, Jaw, or Neck Pain
Frequent headaches, neck, or jaw pain should be mentioned to your dentist since they may be a sign of temporomandibular disorder (TMD). The sooner you make you dentist aware of the issue, the sooner they can treat it.
#6: Recent COVID-19 Symptoms or Diagnosis
If you were recently showing symptoms of COVID-19 or were diagnosed with coronavirus, tell your dentist before your appointment. This will let them take the necessary precautions and keep an eye out for consequences to your oral health. If you're still contagious or showing symptoms, reschedule your appointment to protect your dental team and other patients from contracting the illness.
Since dental checkups only occur an average of two times per year, it's important to make every appointment count. Speak with your dentist about the overall health issues you have so they can help you continue to maintain a beautiful, brag-worthy smile.
About the Practice
Lead by Dr. Danny Hayes and Dr. Christine Mousa, Advanced Dental Concepts is committed to providing the residents of Crown Point and surrounding cities with exceptional dentistry for the whole family and the best customer service around. They pride themselves on being honest, respectful, and courteous to their patients so they feel comfortable with the care they're receiving. Visit Advanced Dental Concepts' website or call their office at (219) 663-6878 if you have any questions or to schedule an appointment.