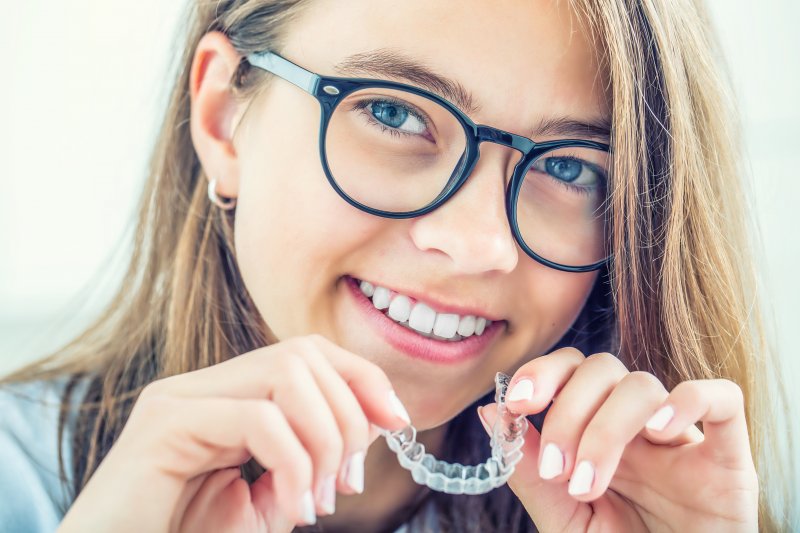 Now that your child has reached their teenage years, there is a decent chance that they will need to undergo orthodontic treatment to correct misalignment issues. It may not be their favorite thing in the world, but most will agree that the final results make it all worth it. Now that your teen is heading back to school, navigating the day with their new Invisalign aligners may be more challenging. Here are a few tips to help them stay on top of their treatment while they are back in the classroom.
Pack Dental Tools
One of the greatest benefits about Invisalign is that your teen won't need to cut out any of their favorite foods and beverages from their diet. Since their aligners are removeable, your teen can eat pretty much whatever they want. However, it is important that they take the time to thoroughly brush and floss their teeth before returning the aligners to their mouth. Make sure that they are packing a toothbrush, toothpaste, and floss so no food debris gets stuck in their trays and cause staining and decay.
Bring an Invisalign Case
Your teen will need to remove their Invisalign aligners when they are eating, drinking, or involved in contact sports. During this time, the aligners need to be kept in a safe place so they don't become damaged or last. Losing Invisalign aligners can throw off their treatment plan and prolong it. No one wants to wait longer to see their final results. Remind your teen to take their Invisalign case with them to school so they can safely store their aligners. This way, it's much less likely that they will misplace them.
Dealing with Discomfort
Orthodontic treatment is never completely free of discomfort. Invisalign doesn't generally hurt, but it does cause the teeth to shift around which can ultimately cause soreness. This is especially the case right after your teen gets a new set of aligners. To reduce this, have your teen change to their new trays before bedtime. This way, they will be sleeping while their smile is adjusting the most. Dental wax can also help to cover rough edges that are irritating their mouth. No teen wants to be dealing with discomfort when they are trying to focus on making the grade.
Navigating school can be a challenge when growing accustomed to Invisalign. However, with the tips listed above, your teen will be experiencing the benefits of a perfectly aligned smile in no time!
About the Author
After attending dental school with a specialty in pediatric dentistry and practicing in Egypt for three years, Dr. Christine Mousa moved to the United States and earned her DMD degree from the UIC College of Dentistry in Chicago, IL. She is a certified Invisalign provider and provides complete family dentistry for adults and children of all ages. For more information on Invisalign or to schedule an appointment at her office in Crown Point, visit her website or call (219) 663-6878.