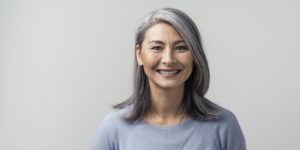 Hands down, the best way to replace any number of missing teeth is with dental implants. If there's one thing implants are known for, it's their reliability, as they are 95% effective. What's the secret to dental implant success, though? As you continue reading, discover the components that make this the gold standard for tooth replacement!
Careful Planning
Two keys to dental implantation being so successful are the careful assessment and planning that happen before any work commences. The dentist will make sure your oral health is in good condition and that you have a sufficient amount of jawbone material to support an implant. If there are any issues present, he or she will develop a plan of action to correct them so that you can eventually move forward with having your smile and functionality restored.
Expeditious Action
If you have teeth missing, it's in your best interest to act sooner than later to have them replaced. The longer you wait, the greater the chance of suffering bone resorption. If this happens, you'll need to undergo a bone grafting procedure in preparation for receiving an implant.
Skilled Care
To qualify to perform the dental implant procedure, dentists must undergo rigorous training. To further ensure they can deliver the absolute best in care and stay abreast of the latest tools and techniques, many dentists will take several hours of advanced postgraduate training and maintain professional affiliations with dental implant organizations.
The Highest Quality Materials
When it comes to implants, bargain shopping isn't the way to go. The most successful dentists use only the highest quality materials. As a result, the patients are able to enjoy their smile for the rest of their life.
Superb Dental Hygiene
You're not completely dependent on the dentist and the materials used. The quality and consistency of your dental care also play a significant role. As a general rule, you should be brushing and flossing at least two times a day, just like you would with natural teeth. The only difference is that you'll need to use a special type of floss that is designed for implants.
Maintaining Regular Dental Visits
By committing to visiting your dentist every six months for cleanings and examinations, you can count on your dental implants in Crown Point lasting well into the future. That's because any issues that arise can be addressed fast before they develop into bigger problems.
The more proactive you are about maintaining your oral health and protecting your smile, the better your life will be!
About the Author
Dr. Danny Hayes is a graduate of Temple University School of Dentistry. As one who believes in the value of learning, he takes continuing education courses annually to further expand his knowledge and stay abreast of the latest breakthroughs in dental implantation. A member of the American Academy of Implant Dentistry and other professional organizations, Dr. Hayes places dental implants at Advanced Dental Concepts, and he can be reached for more information or to schedule a visit through his website.