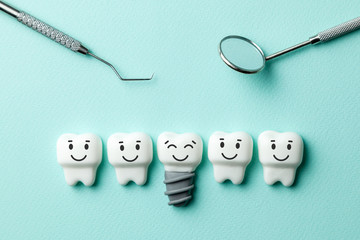 One of the great things about living in today's world is that missing teeth can be a thing of the past. With the help of a skilled dentist, you don't have to put up with gaps in your smile. There are several different tooth replacement options out there, including dental implants. However, many people find themselves worried about the initial cost of dental implants in Crown Point. The truth is that you may actually be saving money in the long run by choosing implants over another tooth replacement option. Continue reading to learn more about the benefits and how they can help you save.
What Benefits Do Dental Implants Have Over Other Tooth Replacement Options?
To determine whether or not dental implants are worth their initial cost, it's important that you know about all of the benefits. Here are a few advantages that they have over other tooth replacement options, like dentures:
Prevents Bone Loss: Dental implants are the only tooth replacement option out there that replaces the root of the missing tooth. This helps to stimulate the jawbone and ultimately prevents bone loss.
Chewing Power: Once your dental implants have completely healed, there are no eating restrictions. This is because they restore up to 90% of your natural chewing power and are firmly anchored into the jawbone. Traditional dentures only restore up to 30%.
Long Life: Dentures and dental bridges need to be repaired and replaced periodically. On the other hand, dental implants can last upwards of 25 years or even the rest of your life if you care for them properly.
How Can Dental Implants Save You Money?
Many people are discouraged when they hear about the cost of dental implants, but the truth is that the initial cost is much different from the total cost. For dentures, the initial cost is more affordable, but there are other investments that you will need to make throughout the years, like adhesives and soaking tablets. Because they don't prevent bone loss, you will need to have them relined and replaced periodically. They also take much more time out of your day to brush and soak them.
When it comes to dental implants, you won't need to worry about bone loss or future replacements. You take care of them just like you would with natural teeth. Ultimately, you are all set for many decades to come.
Dental implants may appear to be expensive at first, but over time, they pay off. This way, you can restore your smile while also saving your wallet!
About the Author
Dr. Danny Hayes is an experienced dentist who has been practicing for 14 years. He earned his DMD from the Temple University School of Dentistry in Philadelphia, PA and has attended continuing education courses in a variety of topics, including dental implant placement and restoration, as well as advanced bone grafting. He is affiliated with the American Academy of Implant Dentistry among other professional organizations. For more information or to schedule a consultation, visit his website or call (219) 663-6878.