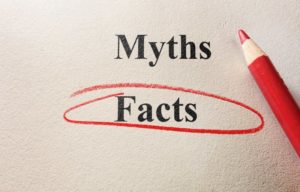 Dental implants in Crown Point are one of the most popular, modern tooth replacement solutions offered by dentists today. As you're learning more about how they could benefit you, it's important to be able to decipher fact from fiction. Read on to learn about the five most common myths about dental implants and why they aren't true.
#1: Dental implants are only for older people.
According to the American Academy of Prosthodontists, an estimated 178 million Americans have lost at least one tooth, and obviously, not all of them are older folks! Accidents and oral health problems like gum disease can affect anybody's smile, regardless of their age, causing them to need a restoration. Dental implants are a great tooth replacement solution for patients of all ages!
#2: Everyone will notice if you have implant-retained restorations.
Implant-retained restorations are natural looking and feeling. In fact, they're one of the most recommended and preferred tooth replacement treatments among patients due to their ability to identically replicate the entire structure of your natural teeth. Plus, your replacement teeth are custom-crafted from high-quality, natural-looking materials like porcelain and ceramic to flawlessly blend in with the rest of your smile.
#3: The procedure is very expensive.
Even though dental implants may have a higher up-front cost, they can actually help you save money over the long-run. They have an impressive lifespan of up to 35 years with the proper maintenance. That's about four times longer than traditional restorations like dentures and bridges. That means that you won't have to spend as much money on replacements, repairs, and dental visits over the course of that time.
#4: You can't eat all of the foods you want to with dental implants.
Unlike with dentures, your dental implants don't rely on natural suction and adhesive to stay in place, which isn't always entirely reliable. The implants anchor your restoration to your jawbone, providing a stable, strong, and sturdy foundation. In fact, patients with dental implants can enjoy a 95% restored bite force that allows them to easily chew practically any food they want.
#5: Getting dental implants is painful.
If you haven't had to undergo an oral surgery yet, you may fret that having dental implants placed will be painful. Before the procedure begins, your surgeon will be sure to numb the area that they're operating on and make sure that you don't feel an ounce of discomfort throughout the process. Afterward, many patients report that they're able to go about with their daily plans as they normally would the very next day after their procedure, although this varies from patient-to-patient.
Now that you know the truth about dental implants, you can make the best decision for your oral, mental, and physical wellbeing. With so many unique benefits to offer, you'd be missing out if you let one of these myths prevent you from getting this modern, advanced tooth replacement solution.
About the Author
Dr. Danny Hayes is a dedicated dentist who enjoys helping patients of all ages restore their smiles, so they can feel proud, healthy, and comfortable. He regularly takes continuing education courses to sharpen his skills and keep him up-to-date with the latest advancements in his field, like dental implants. He is also an active member of a number of professional organizations and has over 14 years of experience under his belt. To learn whether you're a good candidate for dental implants, visit Advanced Dental Concepts' website or call 219-663-6878 to schedule an appointment today.