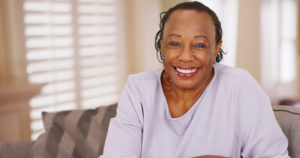 Are you missing some or all your teeth? You're certainly not alone. Studies indicate that178 million Americans are missing at least one tooth, and 40 million are missing all of their pearly whites! While you could choose to restore your smile with dentures, this traditional tooth replacement option is notorious for losing its fit over time and becoming irritating, uncomfortable, and difficult to live with. Thankfully, there's a better way to replace missing teeth: dental implants in Crown Point! Read on to find out if all-on-4 dental implants are the right solution for you.
What Are All-On-4 Dental Implants?
Unlike dentures and dental bridges, dental implants are designed to replace a tooth both above and below the gumline. Instead of relying on the support of your gums or remaining teeth, a small titanium post is placed directly into your jawbone to mimic the missing tooth's roots. However, you thankfully won't need as many titanium posts as you have missing teeth. With All-on-4 dental implants, you can regain a full arch of missing teeth with just four strategically placed implant posts! Each one is placed in the thickest area of your jawbone to provide your custom denture maximum support with a minimal amount of surgery.
Who Is A Good Candidate for All-On-4 Dental Implants?
Dental implants are a great choice for nearly anyone missing one or more teeth. In general, you may be a good candidate for all-on-4 dental implants if:
You're missing all your teeth on one or both arches: While traditional dental implants can be used to support a dental crown or bridge, the All-on-4 method secures full-arch dentures.
You're tired or annoyed with your dentures: You can replace your loose, uncomfortable traditional dentures with All-on-4 dental implants for more comfort, stability, and longevity.
You don't have enough jawbone density for traditional dental implants: All-on-4 dental implants are a great choice for those with lower jawbone density.
What Are the Benefits of All-On-4 Dental Implants?
Rebuilding your smile with dental implants offers a range of benefits that simply can't be achieved with other tooth replacement options, such as:
Enjoy your new smile right away: In many cases, All-on-4 dental implants allow you to enjoy your new teeth the same day they're placed.
Unmatched comfort: Since All-on-4 dental implants are anchored into your jawbone, you'll never feel them slip or irritate your gums.
Vastly improved biting force: All-on-4 dental implants can restore up to 90% of your original biting force, allowing you to continue to enjoy all your favorite foods.
Permanent results: Unlike dentures that need to be replaced periodically, you can easily expect your new dental implants to last a lifetime with the proper care.
Preservation of jawbone and facial features: The titanium posts that secure your full-arch dentures stimulate blood flow in the jawbone, which prevents its deterioration and the sunken, aged appearance that comes with it.
It's time to restore your smile and your confidence. Talk to your Crown Point dentist today to see if All-on-4 dental implants are right for you.
About the Author
Advanced Dental Concepts is proud to help rebuild the smiles of Crown Point with dental implants. Dr. Danny Hayes has completed advanced continuing education in dental implant placement and restoration, which means you won't need to be referred to an unfamiliar specialist to have your teeth replaced. Whether you're missing one, several, or all your missing teeth, he can help you discover the best way to regain your smile and your confidence. He can be reached via his website or at (219) 663-6878.