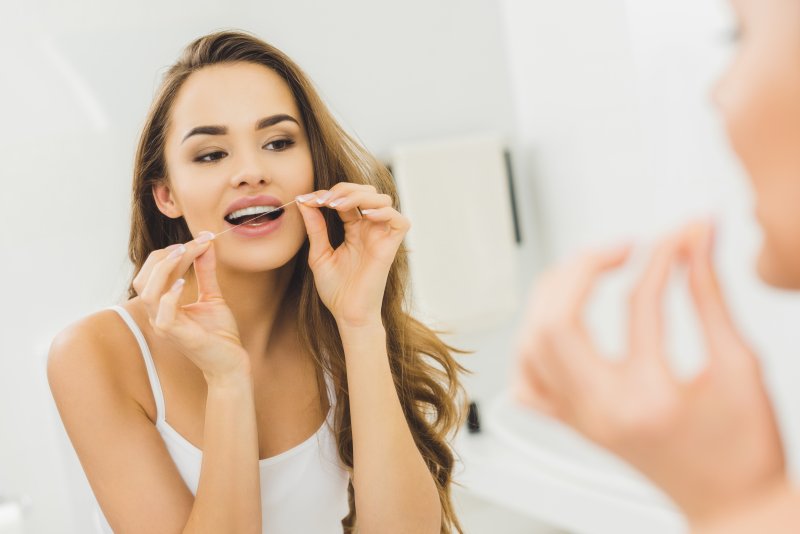 Despite the initial chaos of the stay-at-home orders, you have finally found a healthy routine. Plus, with all this extra time you have been able to consistently implement a thorough dental care regimen that is starting to brighten your smile! However, you may feel disheartened to see that your gums are bleeding when you floss. If this situation sounds familiar, then you are not alone. Your dentist in Crown Point is sharing common causes, prevention tactics, and treatment options every patient should know.
3 Common Causes of Bleeding Gums
Although bleeding while flossing is fairly common, it is important to not be dismissed. After all, irritated or bleeding gums could be a symptom of a much more serious dental concern, like gum disease. Fortunately, knowing the common causes can help you determine whether it is something that requires immediate attention or if it can wait until your next visit. Here are the three common causes:
Infrequent flossing – If you go days or weeks without flossing, then it is likely that your gums will bleed. This is relatively normal, but it is also a significant sign that you should floss more frequently. If the bleeding does not stop quickly, then contact your dentist immediately.
Skipping bi-yearly visits – In the hustle and bustle of everyday life, it can be tempting to forgo your routine dental checkup. However, the professional cleaning during your appointment is the only way stubborn plaque and tartar can be thoroughly removed from your teeth. If neglected, the harmful bacteria can irritate your gums, causing them to become swollen and sensitive.
Vitamin deficiencies – All too often, patients overlook the vital role their diet plays in their oral health. In addition to avoiding sugary beverages and foods, patients should also implement a vitamin-rich diet that keeps the gums healthy from the inside-out. That way, they can fight off infection effectively!
5 Prevention Tactics Every Patient Should Follow
Like most dental issues, practicing proper prevention is key. Therefore, it is important to implement the below tactics into your oral hygiene routine:
Brush your teeth for two minutes twice a day.
Floss daily.
Use mouthwash regularly.
Always clean your tongue.
Visit your dentist for routine visits every six months.
Treatment Options to Talk to Your Dentist About
If the bleeding is consistent, then it is time to schedule a visit with your dentist to see if it could be a symptom of gum disease. Although this infection affects more than 50% of U.S. adults, it can have dangerous consequences if it isn't treated properly. In fact, if neglected, the bacteria can find its way into your bloodstream and negatively impact your heart and lungs. Therefore, your dentist will recommend periodontal therapy, like scaling and root planing. These treatment options can effectively remove the damaged tissue and prevent future harm from below the gumline!
If your dental hygiene routine leads to routine bleeding from your gums, then it is time to schedule an appointment with your dentist. In addition to thoroughly examining the area and giving your teeth a professional cleaning, they can also check for warning signs of serious dental concerns. That way, you can get the treatment you need for a healthy, pain-free smile for decades to come!
About the Practice
At Advanced Dental Concepts, exemplary service and world-class care are what their team does best! In fact, their personalized approach to dentistry has led them to win multiple awards, including the Nextdoor Neighborhood Favorite and the Dental Insider Best of Crown Point for Patient Satisfaction. If you would like to speak with Dr. Danny Hayes or Dr. Christine Mousa about getting your oral health in pristine condition, please visit their website or give them a call at 219-663-6878.