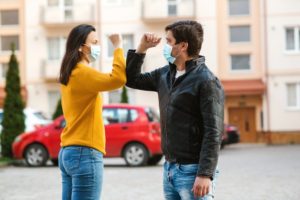 These days, you can't turn on the news, scroll through social media, or even have a conversation with a friend without hearing the words "social distancing." Everyone is adjusting to this new way of life by working from home when possible, limiting physical contact with loved ones, and staying away from others when out in public. Even your dentist is no exception to this new societal practice. Here are a few of the ways your dentist in Crown Point is adhering to social distancing guidelines and keeping their office as safe as possible.
Virtual Waiting Rooms
Instead of sitting in the waiting room, which can quickly become a breeding ground for all kinds of germs, your dental team will ask that you wait in your car until the dentist is ready to see you. When you arrive at the office, you can check in at the front desk, but then you should sit in your car. This is why it's recommended that you arrive as close to your appointment time as possible. When it's time for your appointment to begin, one of your dentist's staff members will call or text you, letting you know that it's fine to come inside and head straight back to the treatment area.
Spaced-Out Scheduling
Put simply, your dentist isn't seeing nearly as many people in a day as they did before COVID-19 struck. This drastically decreases the chances that a patient who's leaving the office will accidentally make physical contact with another patient who's entering the building. Germ transmission is kept to a minimum. The spaced-out appointments also allow the staff ample time to thoroughly disinfect the office between patients.
Limiting the Number of People in the Office
If you're the one with the appointment, your dental team will ask that you are the only one to enter the office. All others should wait in the car until you're finished. If it's your child who has the appointment, one parent is allowed to wait in the reception area. The chairs have been spread apart to maintain some distance between waiting parents.
Asking Sick Patients to Reschedule
All patients (and staff members) will have their health checked on arrival in the form of a few quick questions and a no-contact thermometer. If you currently display any COVID-19 symptoms, or have been in close contact with someone who does, your dentist's staff will ask that you reschedule your appointment unless it's an emergency. This protects the staff and other patients from potential exposure.
Along with washing your hands and wearing a mask, social distancing is one of the best ways to keep yourself safe during this pandemic. Your dentist in Crown Point makes sure to implement this practice in their office to keep you as safe as can be while you're under their care.
About the Author
At Advanced Dental Concepts, we strive to do everything in our power to protect our patients in the Crown Point, IN community from the COVID-19 virus. As we start to reopen for elective procedures, we follow extensive guidelines, including social distancing, to reduce the risk of infection. For more information on how exactly we can keep you safe during your appointment, visit our website or give us a call at (219) 663-6878.