As we are all aware, a nasty bug known as Novel Coronavirus, or COVID-19, has had a major impact on our daily lives in recent months. The fear and apprehension surrounding COVID-19 has brought to our attention many things that once went relatively unknown or overlooked. A virus that is not visible to the naked eye has managed to make itself known and visible to billions of people around the world through news, print, illness and even tragedy! Is there a silver lining that can make us, as dental professionals and dental patients, safer and healthier in the future? Yes…awareness and adaptability!
What is Ultraviolet (UV)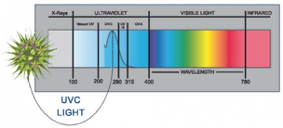 Ultraviolet (UV) light is a component of the electromagnetic spectrum that falls in the region between visible light and X-Rays. The UV spectrum is further divided into 3 wavelength categories: UV-A, UV-B and UV-C. UV-A is useful for printing, curing, and lithography. UV-B is useful for tanning. UV-C is useful for DISINFECTING and STERILIZATION of objects, surfaces and the air that we breathe. Again…UV-C is useful for disinfecting and sterilization! UV-C light can effectively disrupt and kill surface and airborne viruses and bacteria such as the flu virus and COVID-19.
About UV-C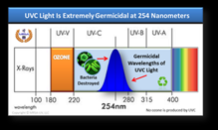 UV-C light is germicidal – i.e., it deactivates the DNA of bacteria, virus and other pathogens and thus destroys their ability to multiply and cause disease. This is not new technology but has been relatively overlooked in the dental industry. For decades, dental offices around the world have relied heavily on chemical surface disinfectants and high heat sterilization methods to keep our offices healthy and safe…with amazing effectiveness.
Advanced Dental Concepts' Enhanced Safety and Wellness Protocol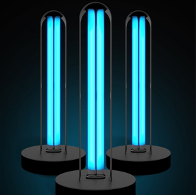 Advanced Dental Concepts is implementing an Enhanced Safety and Wellness Protocol to better serve our patients, our team and our communities in our Chesterton, Crown Point and Portage dental practice locations. As part of this enhanced protocol, we are adding UV-C technology to all our dental practices. In addition to our standard OSHA approved sanitation and sterilization processes, the installation of UV-C germicidal systems to our air systems and our operatories will enable us to effectively kill 99.9% of all viruses and bacteria in the air and on virtually every surface in our practice. This will drastically reduce risk of transmission of virulent and contagious pathogens during this pandemic and well into the future.
In a time of uncertainty, our mission is to create a dental office environment where our patients and our team know that every effort is made to ensure their health and safety. If you are in search of a ward winning, family friendly dental practice in Chesterton, Crown Point or Portage, we invite you to learn more about us at www.ADCSmiles.com. You can rest assured that your family's health and safety are always our top priority. We offer complete family, cosmetic and implant dentistry for all ages, and are always accepting new patients. We look forward to seeing you.