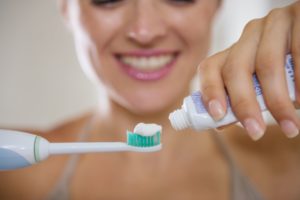 Due to the COVID-19 pandemic, most dental practices, including your dentist in Crown Point, are currently only treating emergency patients. This means that all non-urgent procedures, including your regular checkups and cleanings, have been effectively postponed until further notice. If you're usually on top of your oral health, you might be worried about your smile possibly suffering because you're not getting your cleaning. However, there are plenty of ways to keep your teeth and gums healthy in the meantime. Keep reading to learn a few of them.
Brush and Floss Daily
Because you can't get your pearly whites professionally cleaned for the time being, having a diligent at-home oral hygiene routine is more important than ever before. Brush your teeth twice a day with a fluoridated toothpaste for two minutes at a time. To ensure you brush for long enough, sing the alphabet song to yourself a couple of times while you clean your teeth. Don't stop until you reach the letter "z" twice.
It's also important to floss at least once a day, ideally right before bed. This prevents food particles between your teeth from festering during the night and attracting harmful bacteria that cause gum disease and cavities.
Drink Tap Water
These days, most tap water contains fluoride. This mineral actually occurs naturally in the majority of water sources. Studies have shown that people who have fluoride in their drinking water have fewer cavities than those who don't. This is because fluoride strengthens the enamel of your teeth, making them less vulnerable to decay. Make sure you're drinking tap water instead of bottled water. The latter usually isn't fortified with fluoride, so you're missing out on some serious oral health benefits.
Stick to a Mouth-Healthy Diet
This quarantine is a perfect opportunity to evaluate your health and diet choices. To make sure your teeth and gums get all the vitamins and minerals they need to thrive, eat a varied diet with plenty of fresh produce (when you can get it). Your teeth also benefit from consuming calcium, which is found in most dairy products, like milk, yogurt, and cheese. Calcium strengthens your enamel, making them less susceptible to cavities.
Many of us are scared during this pandemic. However, just because we are living in uncertain times doesn't give you an excuse to slack off when it comes to your oral health. Keep the tips listed above in mind and your mouth should stay healthy and clean until your dentist in Crown Point reopens.
About the Author
Dr. Danny Hayes has been practicing dentistry for 14 years and counting, ever since he earned his doctorate from Temple University School of Dentistry. Over the years, he has attended continuing education courses in a variety of aspects of dentistry, including dental implant placement and restoration. Currently, his practice is only treating patients with dental emergencies. If you suspect you have one, don't hesitate to pick up the phone and call (219) 663-6878.