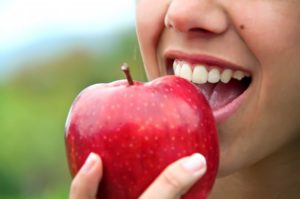 Pretty much everyone knows how to eat healthy foods for the sake of keeping their weight down. But do you know how to eat in a way that benefits the health of your teeth? While they might seem similar, there are a few key differences. To protect your teeth from the dangers of high sugar consumption, it's important to make smart choices when selecting what foods to eat. Here are a few tips from a dentist in Crown Point to keep in mind when trying to eat a mouth-healthy diet.
Why Is Sugar Bad for Your Teeth?
Like any warm, moist environment, your mouth is teeming with bacteria. Some of these bacteria form a sticky film on your teeth called plaque. When you consume sugar, the bacteria in plaque feast on these sugars and leave behind an acidic waste product. These acids are strong enough to erode your tooth enamel, which is what causes cavities. However, if you don't eat much sugar, bacteria don't have enough opportunity to produce the acid that eats away at your enamel.
How Can You Snack Smarter to Prevent Tooth Decay?
Besides the amount of sugar in your food, there are a couple of things you have to consider when choosing a snack:
How Often You Eat Sugary Snacks
Every time you consume something sugary, harmful acids form in your mouth. It takes your saliva about 20 minutes to neutralize these acids. As a result, the more times you eat sugar, the more fuel you're providing for the bacteria in your mouth to cause tooth decay.
The Texture of the Food
Foods that are chewy or gooey are more likely to stick around on your teeth compared to foods you quickly chew and swallow. Since these treats stay attached to your teeth for longer, they give bacteria plenty of time to gobble up the sugars and leave behind destructive waste.
What Are Some Healthy Snack Options?
The next time you get a hunger pang in between meals, put away the candy and instead reach for something low-fat like fresh fruits, raw veggies, or whole-grain crackers or bread. Milk and other dairy products like cheese are also great choices because they're rich in calcium and phosphates that strengthen teeth. Seeds, nuts, and lean meats also contain vitamins that your teeth and gums need to thrive.
To ensure your mouth stays cavity-free, keep your consumption of sugary foods and beverages to a minimum. Eat a variety of healthy foods from all the groups of the food pyramid. Lastly, be sure to floss and brush with fluoride toothpaste every day!
About the Author
Dr. Danny Hayes has been practicing dentistry for 14 years and counting. He has pursued post-graduate education opportunities in a variety of areas of dentistry, such as cosmetics, dental implant placement and restoration, oral conscious sedation, and laser dentistry. His favorite part of the job is helping patients overcome their dental fears. To learn more about how to maintain a mouth-healthy diet, visit Dr. Hayes' website.