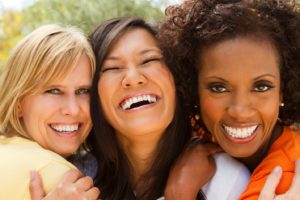 It's almost impossible to understate the potential of a sincere, attractive smile. It can help the people around you feel at ease, and it can make them perceive you as younger and more successful. But your smile's superpowers don't stop there; when you smile, you can also create a positive impact on your mental health. A dentist in Crown Point is here to take about some of the amazing results your brain can experience when you make the effort to turn that frown upside down.
Reduced Stress
One study asked participants to hold a pencil in their mouths while performing challenging tasks. The pencil forced some of the participants to smile; some had a Duchenne smile (which reaches the eyes), while others had a non-Duchenne smile. Some participants had a more neutral expression on their face.
The study found that individuals with the Duchenne smile had lower heart rates and lower self-reported stress levels than people in the other two groups. However, even people with the non-Duchenne smile were less stressed than the folks with the neutral expression. The key lesson? If you force yourself to smile when you're feeling down, you may just find that hard times become a little easier.
Increased Happiness
A smile is often the result of happiness, but many people don't realize that it's a two-way street. When you smile, you initiate a chemical reaction in the brain that produces dopamine, a pleasure hormone. Low dopamine levels, on the other hand, are often connected to depression.
Also, smiling can help you thrive in social situations, which in turn can make you happier. When you smile, the people around you will be more likely to smile. Thus, you can create a chain reaction of positivity that brightens up your whole environment.
Improved Pain Tolerance
When a smile is the gateway to laughter, you may find that your ability to endure pain increases. Studies have found that people who laugh together in a group before they endure physical pain are better able to withstand the discomfort that follows. Many scientists believe that laughter releases endorphins, which are feel-good chemicals that play a big role in reducing pain. There is definitely a bit of truth in the old adage that says laughter is the best medicine!
Unlock Your Smile's Potential
Your smile is a little gesture with huge potential. But what if your grin isn't giving you all it can? You may benefit from a visit to your cosmetic dentist in Crown Point, who can correct functional and aesthetic flaws within your teeth to reveal a smile that you're proud to put to work every day. A few simple treatments may make you smile more and can therefore help you experience lower stress levels, increased happiness, and a higher pain tolerance!
About the Author
Dr. Danny Hayes is an experienced general and cosmetic dentist who is proud to serve Crown Point and the surrounding communities. Together with Dr. Christine Mousa, he provides a wide range of services that strengthen, repair, and beautify smiles. To learn more about Advanced Dental Concepts and our services, contact our team at 219-663-6878.