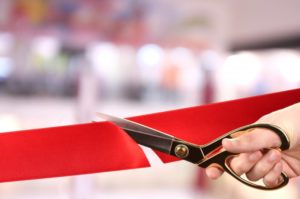 We've been working hard for months to prepare our new office in Portage, and it's finally almost ready! We're beyond excited about our new location, and we warmly invite you to join us as we celebrate its Grand Opening. Our Open House on September 29th is sure to be a memorable event, so mark your calendar!
Food, Drinks, and Fun
From 1:00 p.m. to 3:00 p.m. on our Open House day, you are welcome to stop by our new office at 3410 Willowcreek Rd in Portage. You'll get to:
Play fun games
Enter for a chance to win exciting prizes
Snack on yummy food
Sip on delicious drinks
Chat with our fantastic team members and talented doctors
Explore our modern office
If you're not a current patient of Advanced Dental Concepts, our Open House is also a great time for you to learn about our approach to patient care. You'll find that we're truly dedicated to providing excellent service in a comfortable, relaxed atmosphere.
Feel free to bring your children with you to our Open House. We love getting to know entire families, and we're proud to serve the oral health needs of people from all age groups.
Grand Opening Specials
As part of the Grand Opening festivities for our Portage location, we're offering some amazing specials at both of our offices. New patients can enjoy:
A FREE "Get Acquainted" Consultation. If you have questions about your dental health or a specific treatment, bring them to your initial consultation so we can talk to you about your options for achieving all of your smile goals.
A FREE Emergency exam and limited X– If you've been ignoring that toothache because you're worried about the cost of dental care, call us for a same-day appointment so we can take a look at your mouth and get you started on the road to a healthier smile.
FREE teeth whitening. Normally a $449 value, you can enjoy a brighter set of pearly whites on us after you complete a comprehensive cleaning and exam. Call us to ask about the details of this spectacular deal!
$50 off any treatment. Whether you need a filling, some periodontal treatment, or any other procedure, simply bring in your voucher and take advantage of this generous discount.
We Look Forward to Seeing You!
Our hope is that our Portage office will become a center of dental excellence in our community. We want you to always associate Advanced Dental Concepts with friendly patient care, skilled doctors, and an atmosphere where everyone feels like family. To see for yourself what we're all about, or just to say hi and enjoy a tasty snack, join us at our Open House celebration. We look forward to seeing you!
About the Author
Dr. Christine Mousa is a general dentist who loves getting to know her patients; she has a special place in her heart for children because when she was attending dental school in Egypt, she specialized in pediatric care. She now happily works alongside Dr. Danny Hayes to provide amazing oral care to families in Crown Point and Portage. If you would like to learn more about our doctors or schedule an appointment with us at either of our offices, you can contact our Crown Point location at 219-663-6878.