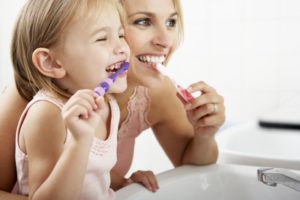 According to the American Dental Association, the moment your child's first tooth erupts is the same moment you should be scheduling an appointment with your dentist. While it's exciting to be a part of your child's oral development, you'll want to learn about the best techniques and procedures to protect them from decay and disease.
Once teeth start erupting, they are prone to experiencing decay, even if they are only baby teeth. To celebrate Children's Dental Health Month this February, here are some tips and videos to keep in mind.
Why You Should Visit the Dentist Regularly
Visiting the dentist isn't just about providing cleanings and fluoride treatments for your child. It's also about letting your dentist examine and update you on your child's oral development. Yes, it's important to remove bacteria and plaque, especially since they are extra vulnerable at a young age. However, your family dentist can also inform you early on if your child will need braces to fix alignment or bite issues in the future.
Furthermore, they can also give you tips on practicing proper oral care and how to avoid common mistakes parents make when caring for their children's teeth. This could include baby bottle tooth decay or effectively helping them quit thumb-sucking, which can cause bite issues later in life.
The Importance of Children's Dentistry
Your children's dentist in Crown Point is not the same as any typical, general dentist in the area. A dentist working at a children's dentistry is more patient, more accommodating, and more prepared to communicate with your child than standard dentists are. They can teach them what foods are great for oral health as well as provide them additional protections to combat tooth decay.
In the video below, our dentist Dr. Danny Hayes covers how dental sealants for pits and fissures can protect your child's teeth as they begin regularly brushing.
Tips for Practicing At-Home Oral Care
When it comes to oral health, at-home care is essential to practice in between your dental visits. That means you'll need to help your child practice proper technique before they can start brushing on their own. The next time you're grocery shopping with your child, have them pick out a toothbrush they enjoy to make brushing more fun and interesting for them. Make sure it has soft bristles and a small enough head to fit in their mouths.
Jaime, a hygienist at the practice, explains the best time for your child to start brushing and how to practice effective brushing technique. Once you finish watching, you can introduce your child to brushing regularly with confidence.
A commonly overlooked aspect of oral care, especially at a young age, is proper nutrition. The more foods you eat that cause tooth decay, the harder you'll have to work to make sure food debris doesn't remain on your child's teeth. That's why Allison, another hygienist at the practice, discusses the best foods for dental hygiene and what foods to avoid.
Want to learn more ways to help your child protect their teeth during early development? Your family dentist can help. Schedule an appointment with them today!
About the Author
Dr. Danny Hayes earned his DMD degree from the Temple University School of Dentistry. While attending, he was also an active member of the American Student Dental Association and the Delta Sigma Delta Dental Fraternity. To learn more about his pediatric dental treatments and practice, contact him at (219) 663-6878 or visit his website.