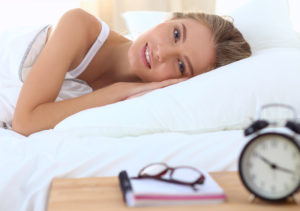 Nearly 30 million people are dealing with obstructive sleep apnea in the United States, according to the American Academy of Sleep Sciences. That means a lot of us are going about our days chronically sleepy and irritable — and, according to a new study, that many people are at a higher risk of developing hypertension and diabetes. Young and middle-aged sufferers are at an increased risk.
If you suspect or know you are suffering from sleep apnea in Crown Point, keep reading. This week's post is for you.
Sleep Apnea, Hypertension, and Diabetes
Obstructive sleep apnea is a condition caused by the partial or complete obstruction of airflow from the lungs and to the brain during sleep. The soft oral tissues collapse and cut off the proper flow of oxygen, which can have a significant impact on overall health.
Research out from the Pennsylvania State University College of Medicine suggests a strong link between obstructive sleep apnea, hypertension, and diabetes. The link was apparent even in patients dealing with mild cases of obstructive sleep apnea — especially in young and middle-aged adults.
The study relied on a random cohort of 1,741 adults who completed a baseline health survey at the beginning of the study and were observed in a sleep lab. A 10-year follow up with those who did not have hypertension and diabetes indicated the significant risk.
What It Means for You
The results of this study are significant for young and middle-aged patients who are at risk of developing sleep apnea. If you are overweight or obese or if you are a chronic snorer, you should get an evaluation for sleep apnea ASAP. Early intervention alongside certain lifestyle changes can help to reverse sleep apnea to protect your overall health.
Treating Sleep Apnea
Sleep apnea treatment with an oral appliance proves to be highly effective for many patients. It is a small device that you wear while you sleep. It repositions the lower jaw to prevent it from collapsing and blocking air and oxygen to the brain. More severe cases of obstructive sleep apnea may require combined therapy, which uses an oral appliance and the CPAP, or continuous positive airway pressure machine.
In addition to seeking a professional treatment for sleep apnea, managing stress and practicing weight management can also help to reduce the harmful side effects of sleep apnea.
Some good practices include…
Adopting vigorous exercise
Eating a balanced, nutritious diet
Reducing alcohol consumption
Combining a professional treatment for sleep apnea alongside a healthy lifestyle can help you avoid major health risks, sleep better, and feel great. Don't wait to get started with sleep apnea treatment to enjoy the restful, rejuvenating sleep we all need to live!
About the Author
Dr. Danny Hayes provides comprehensive dental care, including sleep apnea therapy, for patients in and around Crown Point. To learn more about his services or to schedule an appointment to discuss sleep apnea and its treatment, you are invited to contact Advanced Dental Concepts at 219-663-6878. Advanced Dental Concepts has two locations for your convenience, Crown Point and Portage, Indiana.