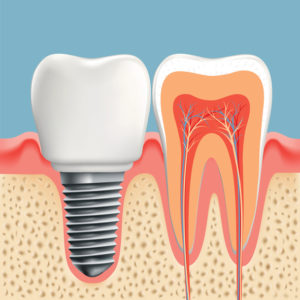 Are you feeling insecure about your incomplete smile? You are not alone. In fact, it is estimated that 178 million adults in the United States are missing at least one tooth. To regain your confidence and to restore your oral functions, you need an effective form of replacement. You could go with a more traditional option, like a dental bridge, or you could choose the most preferred solution with dental implants in Crown Point. At Advanced Dental Concepts, you will regain a complete smile using the only option that closely looks and functions like a natural tooth.

Why Do I Need to Replace My Missing Teeth?
Decreased confidence is the least of your concerns when living with tooth loss. The space in your smile makes eating difficult, which could lead to nutritional deficiencies over time. In addition, it will cause you to lose bone density. As this occurs, your teeth will start to shift toward the open space, leading to overcrowding. This increases your risk for tooth decay and gum disease. Over time, the lack of support will cause you to lose more teeth.
What are Dental Implants?
Dental implants replace the root and crown of a tooth using three components: an implant post, an abutment, and a dental crown. The implant post is surgically placed into the jawbone. Since it is a biocompatible material, the body accepts it, creating a secure bond for the replacement tooth. In addition, this allows it to last a lifetime while also being the only option that stops bone loss.
After the jawbone has fused to the post, a second minor surgery is needed to attach the abutment to the post. This acts as a connector piece between the post and the crown while allowing the gum tissue to heal to seal out infection. A couple of weeks after it is placed, a custom-made restoration is attached to complete your smile.
Dental implants can be used to replace a single tooth or multiple teeth. They can even be used to replace an entire arch. Depending on your severity of tooth loss, the procedure and number of dental implants used will vary slightly.
Are Dental Implants Right for Me?
In most cases, if your gums are healthy and you have adequate bone density to support the implant post, you are a candidate for the procedure. However, you will require a thorough consultation with your dentist in Crown Point to evaluate your medical, dental, and lifestyle history to ensure your risk for implant failure is minimal
Where Can I Get Dental Implants?
If you are ready to stop feeling insecure about your missing teeth, it is time to see if dental implants are right for you. We will perform the necessary consultation to ensure you are a candidate for the procedure. With the right treatment plan, you will regain a complete smile while restoring your oral health and quality of life. Contact Advanced Dental Concepts today to schedule your appointment. We look forward to seeing you smile.