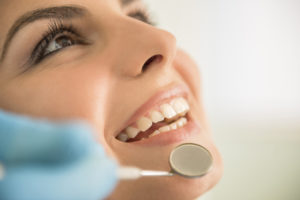 I'm a busy mom in Crown Point – between work, my kid's extracurricular actives, taking care of the house, and spending time with my husband, I have a lot on my plate. I'm looking for a dentist near me who can treat my whole family, who has convenient hours, and who offers a variety of services. And, it would be great if they were willing to give me oral health tips I could read online. Who should I see? Advanced Dental Concepts has everything you're looking for in a practice.
Why Advanced Dental Concepts?
Our dentists are the experienced and professional team you need. Dr. Danny Hayes, a family man, has been practicing dentistry for 14 years and was recognized for excellence in fixed and removeable prosthodontics, like dental implants. He's a member of the American Dental Association (ADA) and has a knack for making his patients feel comfortable and educated on their treatment plans.
Dr. Shaun Freeman received his doctorate in Dentistry from the Indiana School of Dentistry and has advanced training in pediatric care, bone grafting, porcelain veneers and Invisalign. If you want a smile makeover, Dr. Freeman's skill and pleasant demeanor will make your entire experience enjoyable.
Visiting our office is hassle-free – our location is easy to find off East 109th Avenue and Randolph Street, we offer early and late appointments, and will even see patients on Saturdays.
What Services Do You Provide?
Our practice specializes in several areas of oral healthcare. Take a look at the list below for a general review of our services:
Preventive Dentistry – For checkups, cleanings, X-rays, and to maintain your smile, see us. And, we're happy to see everyone in your family – from children to seniors, and everyone in between.
Restorative Dentistry – We provide crowns, tooth-colored fillings, root canal therapy, and traditional dentures, as well as dental implants and implant dentures.
Cosmetic Dentistry – Invisalign, porcelain veneers, in-office or at-home teeth whitening, gum recontouring, and direct bonding are all available to make your smile perfect and bright.
Periodontal Therapy – Suffering from advanced gum disease? Our team uses innovative techniques to increase oral health.
Sedation Dentistry – If you have dental anxiety, you can set your worries aside with our sedation services that are safe, effective and make seeing the dentist a relaxing experience.
Emergency Dentistry – When an accident happens, would you rather see a dentist you already know and trust, or someone brand new who doesn't know you at all? Get to know your dentist in Crown Point before an urgent situation arises.
TMD Therapy – Have jaw pain or temporomandibular joint dysfunction? We can diagnose the real cause and give you real relief from your discomfort.
What Dental Tips Does Your Team Recommend?
Drs. Hayes and Freeman advise their patients to follow the suggestions below to keep their smiles shining bright:
Brush & Floss – Brush gently for two minutes and floss. Do this twice a day and take your time – more pressure is not a substitute for brushing long enough. And consider switching to an electric toothbrush – they actually work and aren't just hype.
Eat Healthy – Nix the sweet snacks and sugary beverages like sodas – simple carbohydrates wreak havoc on your mouth and cause tooth decay and enamel problems. Switch to high-protein treats, or eliminate grazing altogether, if you can. Lastly, limit coffee, tea, and red wine, since these all stain.
See Your Dentist – Visit us twice a year, at least. Regular exams are the best way to make your smile last your whole life long. If you're worried about insurance and cost, don't be. We work with the vast majority of plans, offer CareCredit financing if you're worried about gaps, and provide the Advanced Dental Wellness Plan, a reduced fee schedule, available for those individuals and families without dental insurance.
As you can see, Advanced Dental Concepts is the practice you need for professional service and quality care. Schedule your appointment today!